Sincerest apologies for the blog delay! November and December were insane with a few full weeks of travel, followed by travel back to US soil, for me already a trip from Oakland to Atlanta, and then the holidays. I have to catch you up on our last month in Europe! First, our trip to Austria and Bavaria.
When our visitors scheduled their trips, one of the more exciting pieces was allowing them the opportunity to share where they've always wanted to visit in Europe in consideration for the side trips we'd take outside of Hamburg. In the case of Richard's mom Denise, she expressed interest in visiting Bavaria and a few opulent castles in southern Germany, and we indulged her. Apparently Richard had always wanted to see the castles too! The fun thing about letting our visitors choose was that they selected places I had never dreamed of visiting before. We planned to stay in Innsbruck, Austria and take day trips to Bavaria in southern Germany, and it wound up being one of our most memorable trips.
We flew from Hamburg to Innsbruck on Austrian Airlines and we stayed at the stunning Alders Hotel. The hotel was Richard's pick, it was modern and clean, and being that we were on the 10th floor facing the mountains we had stunning expansive views out of the full wall of windows in our hotel room.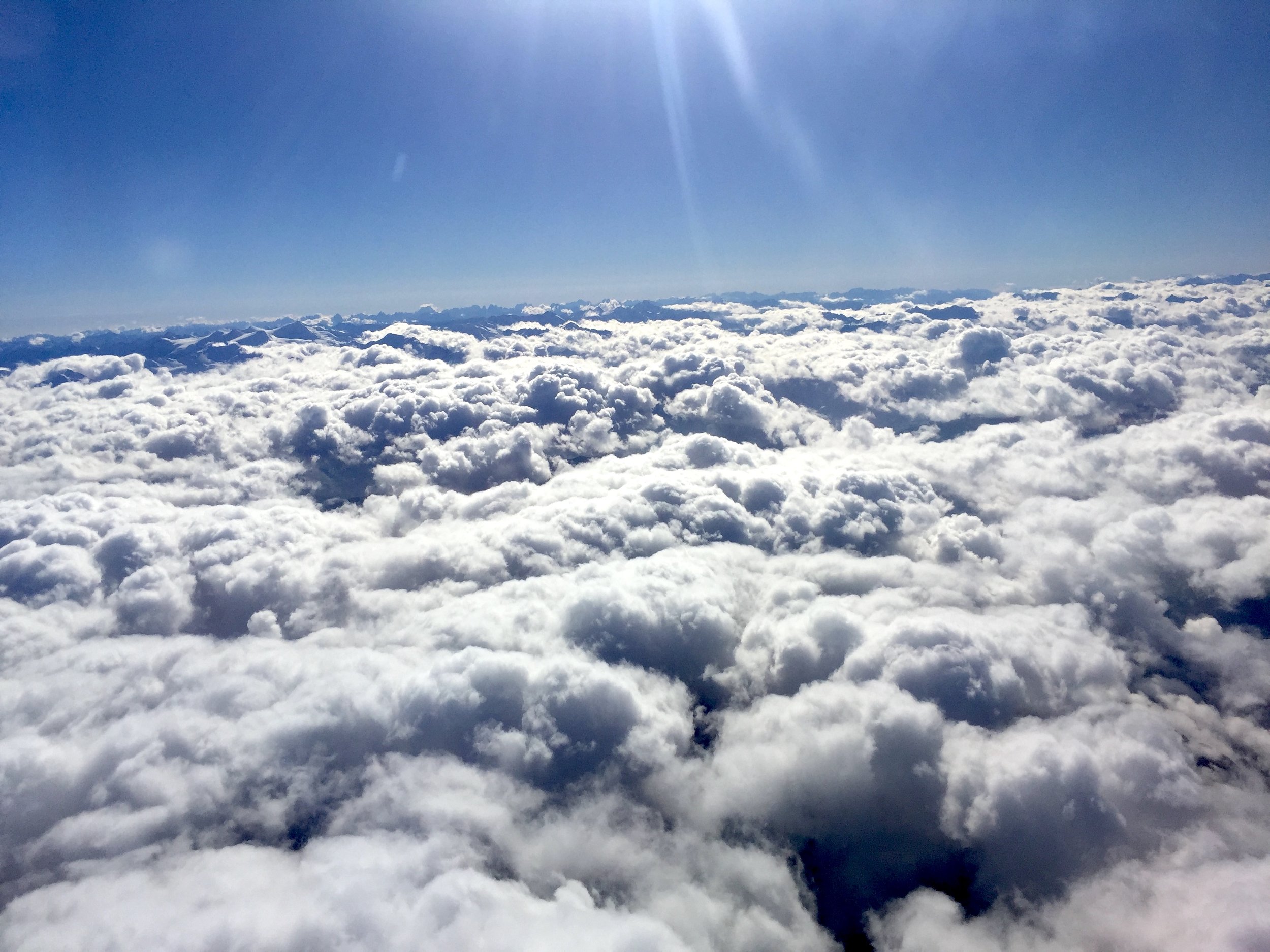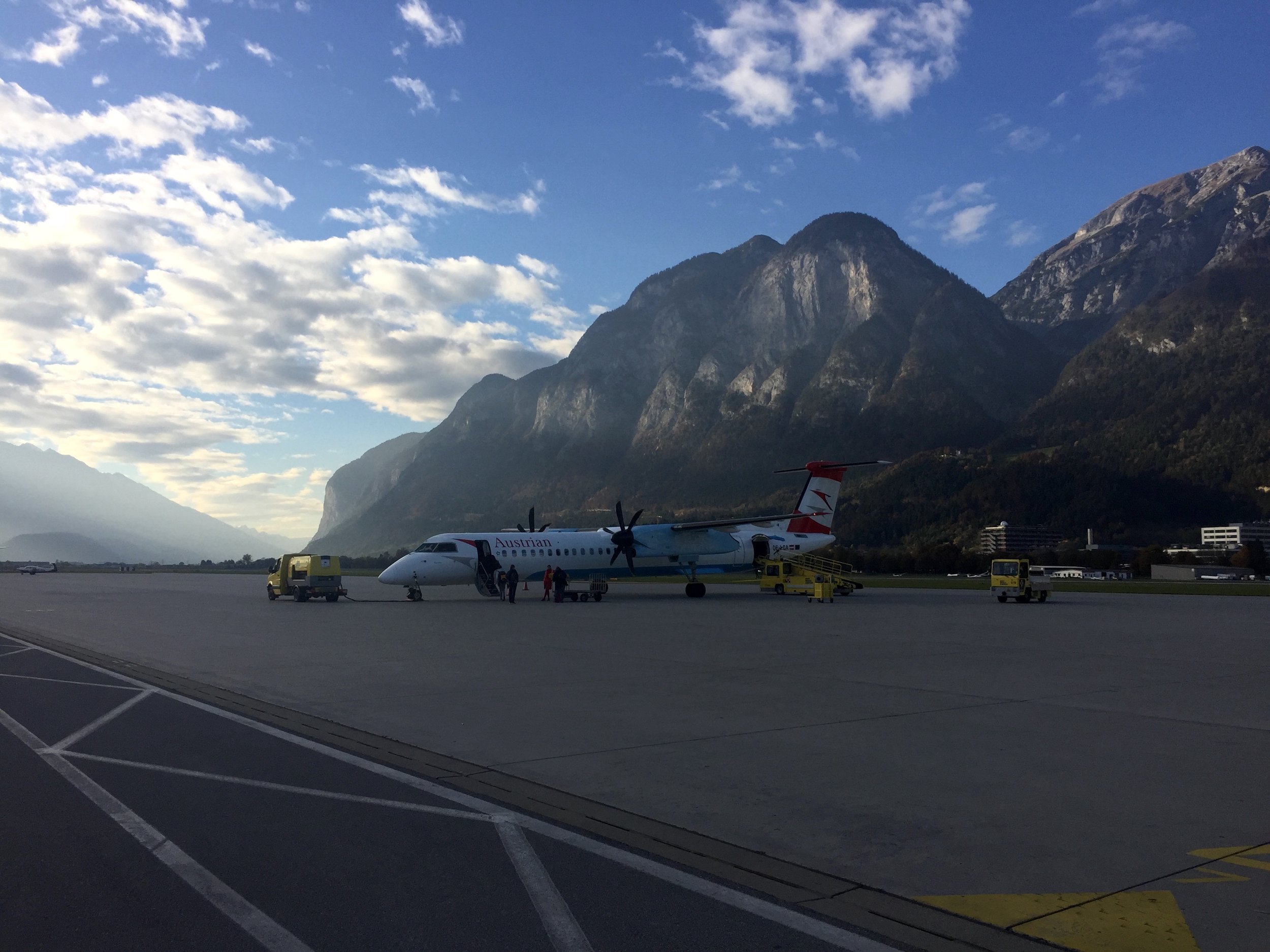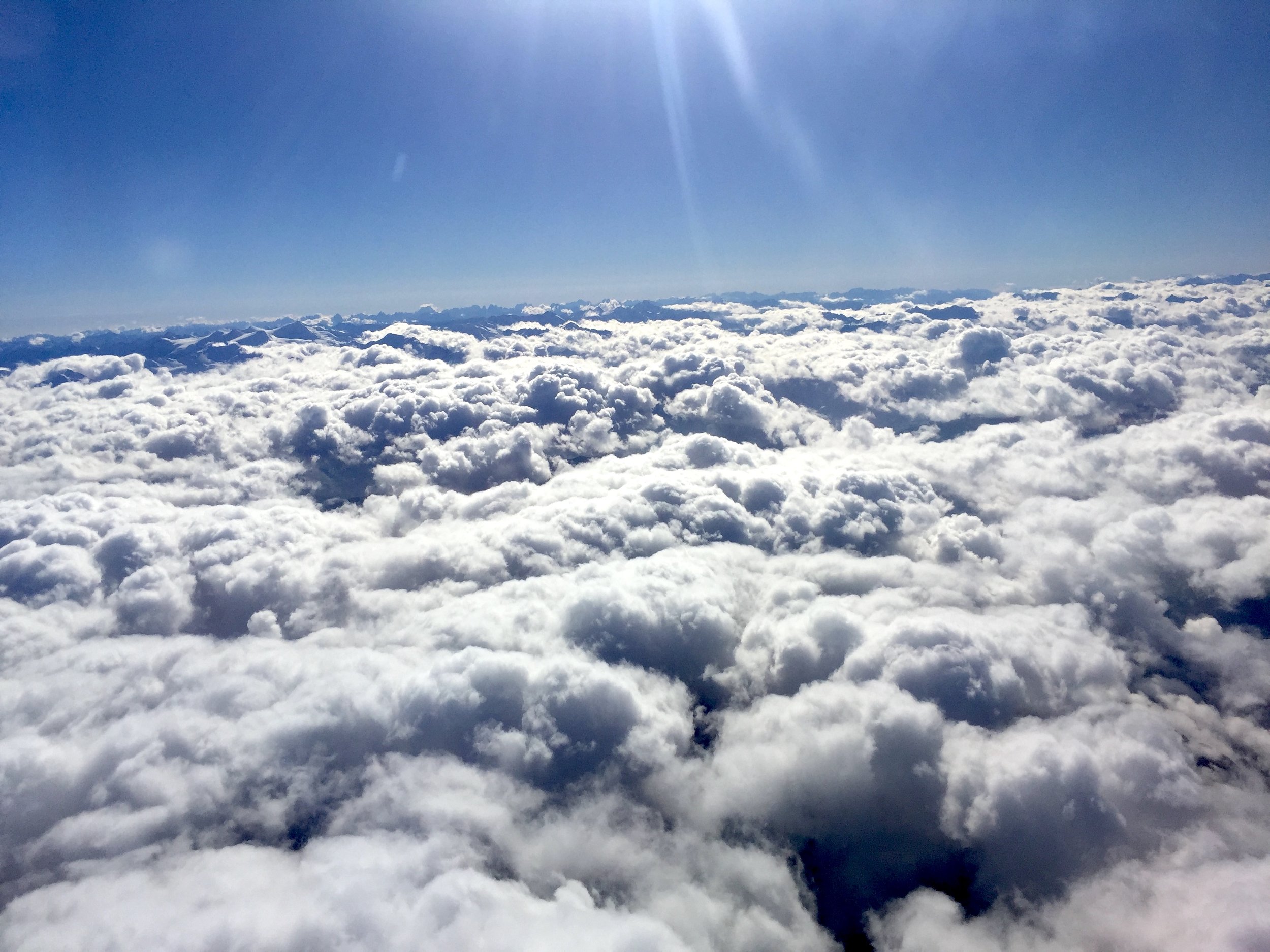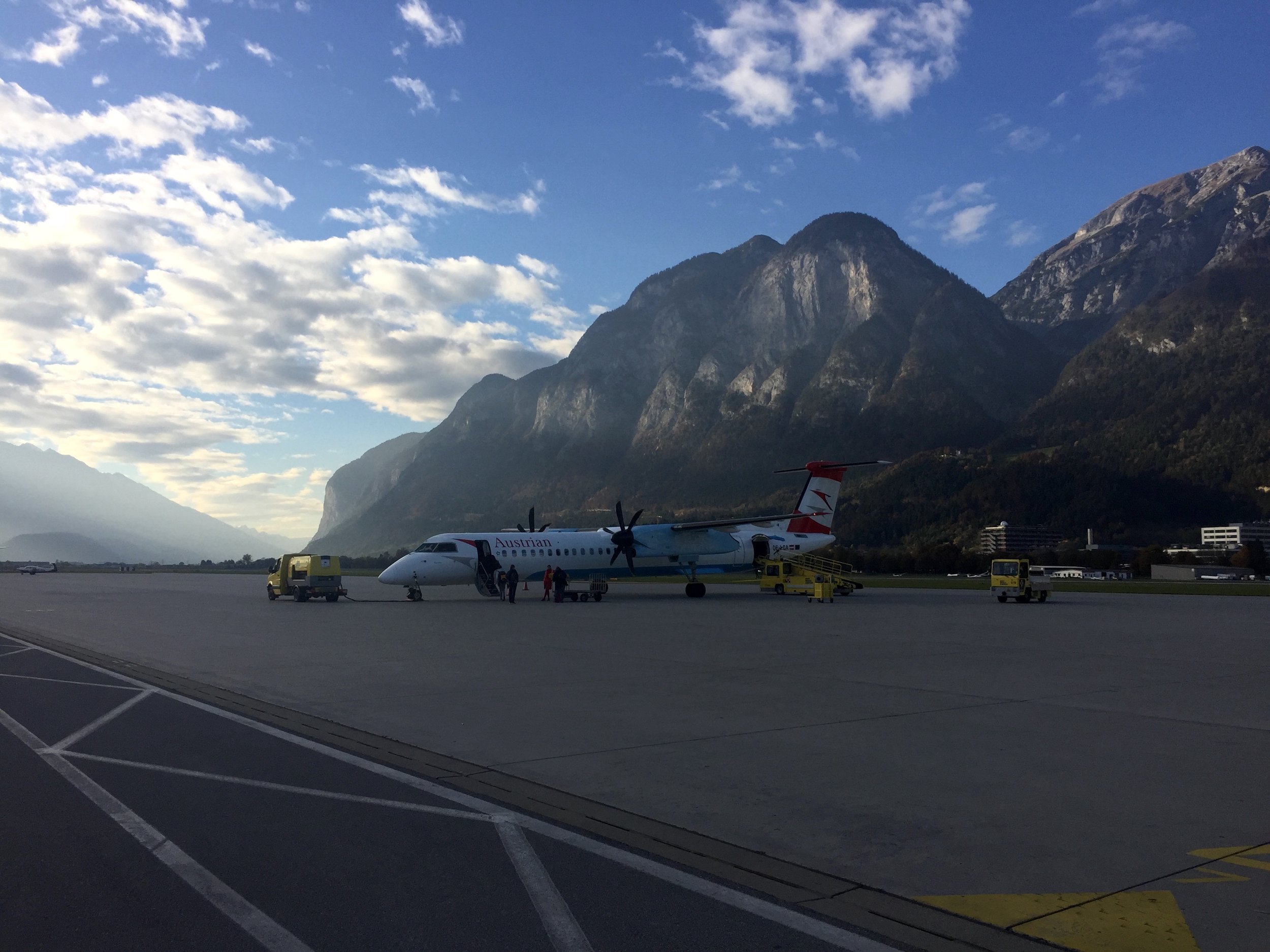 We were also conveniently located just a 10 minute walk to the town center, and we thoroughly enjoyed spending time in and meandering through Innsbruck. We very much enjoyed Austrian food — it's similar to German cuisine but in my opinion better, with main staples being goulash, sausages and potatoes. Austrian coffee and desserts were fabulous as well, and we had our fill of Austrian beers. We even had our first gluhwein of the season, which is hot red wine made with mulling spices that's available all over Europe in the winter time.
For our first full day in the region, we took a day trip over to the border of Austria and Bavaria to see the The Zugspitze, a peak spanning two countries. It's the tallest peak in the mountain chain and the highest mountain in Germany. It was a winding two hour drive through the mountains to get there and was a stunning landscape for a road trip.
We took a cable car up to the top of the mountain where we enjoyed expansive, panoramic views from both Austria and Germany and had a traditional Austrian meal for lunch.
After visiting the Zugspitze, we drove about an hour and a half to the Ehrenberg Castle ruins back in Austria. We hiked about thirty minutes straight uphill to the castle ruins and afterwards we hiked across the Highline 179, the world's longest pedestrian suspension bridge. The bridge trek made for stunning views of the mountains as well as of the castle ruins. After a busy day of day tripping we headed back to Innsbruck where we enjoyed another traditional Austrian meal at a biergarten and shortly after hit the hay.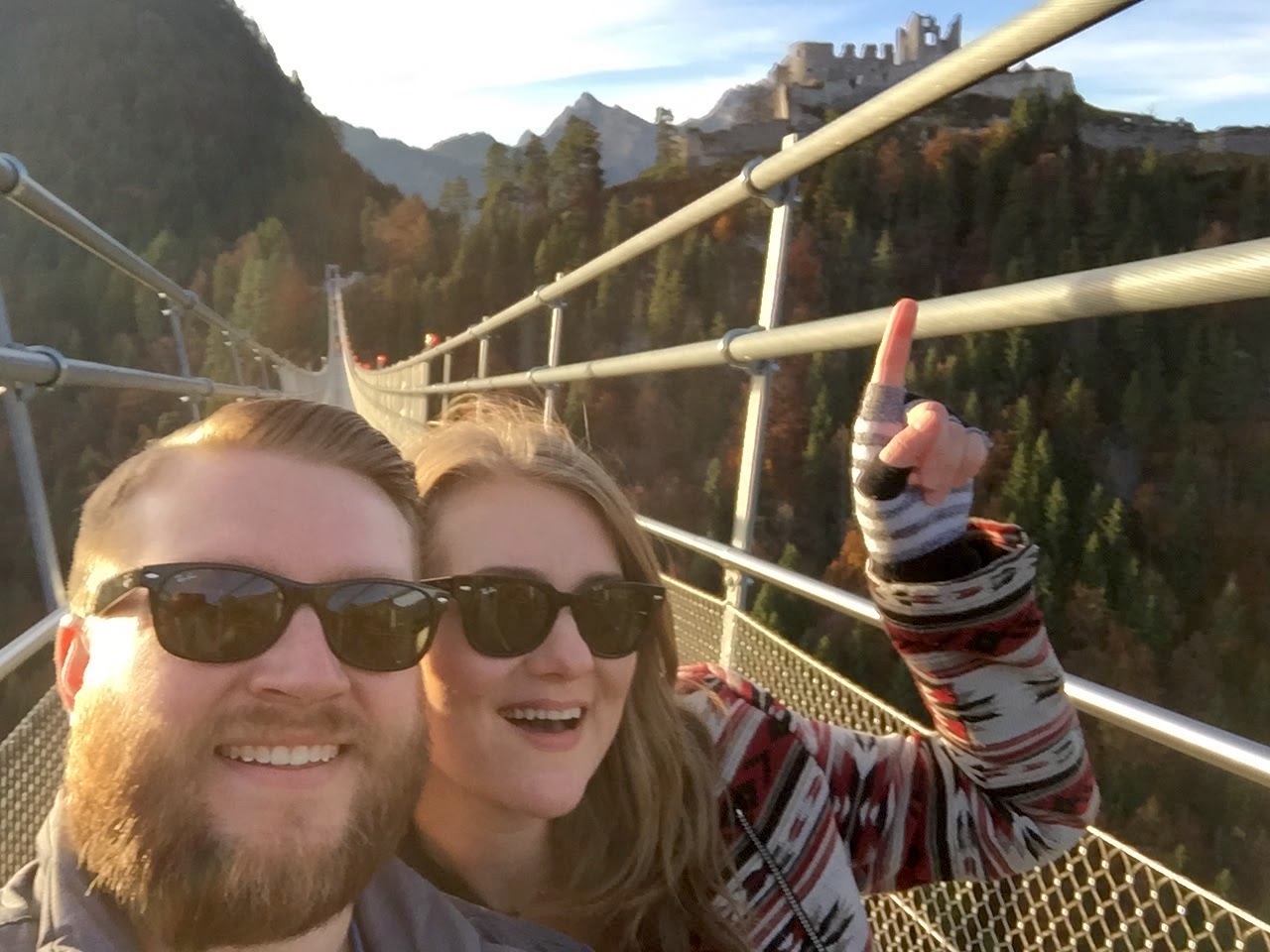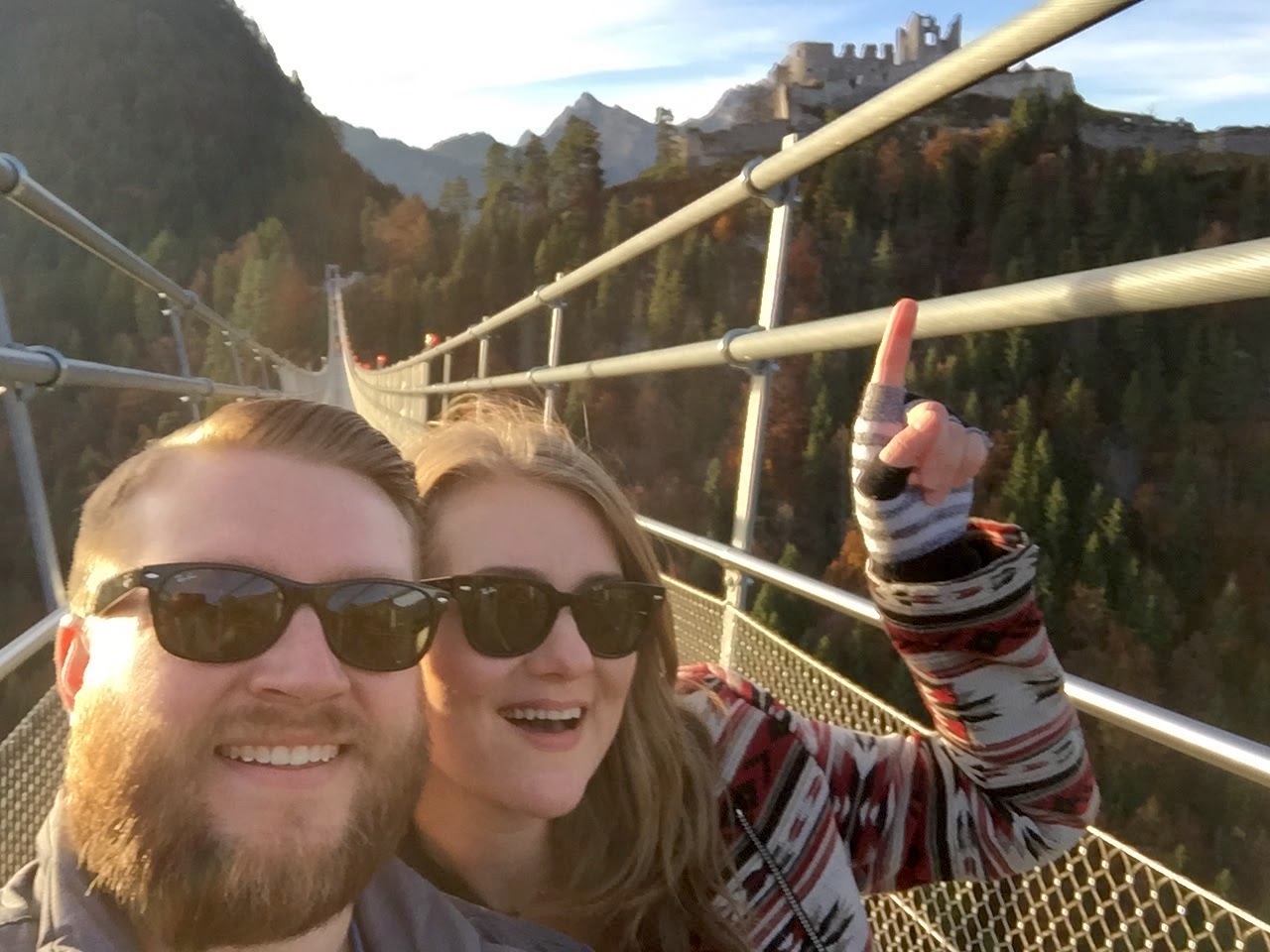 For our second full day in the region we took another day trip, this time across the border to the southernmost end of Germany in the country's Bavaria region. We first visited Neuschwanstein Castle, the castle that inspired Walt Disney's Sleeping Beauty Castle as well as the Disney logo, and also visited Hohenschwangau Castle, the same family's original vacation castle located very close nearby. The visit included fresh pretzels, German pilsner, uphill hikes and stunning views. Unfortunately the castles don't allow photos to be taken inside, so the majority of the photos I have are from the landscape surrounding.
For our final day in Austria, Richie took us on a stunning drive to an area outside of Innsbruck that looked straight out of The Sound of Music, and afterwards even drove us across the border into Northern Italy.
Without much knowledge of Innsbruck or the Bavarian castles prior to this trip, visiting the region wasn't at the top of my list, though now having seen the area's indescribable beauty I feel so grateful to have had the opportunity to visit. Next I'll update you on our time spent in Prague and Amsterdam during our friends' visits to Europe, but for now, bye!
xo,
Shea